Ultra low-cost Spirit Airlines will offer nonstop flights between Manchester-Boston Regional Airport and four Florida cities starting this fall.
The company announced it will offer daily flights to Fort Lauderdale and Orlando starting Oct. 7, with flights to Fort Myers following on Nov. 17 and Tampa on Nov. 18.
"We know in this region that a lot of people will be flying south, but I can tell you I can't wait to come north once the service starts to enjoy some skiing up here this winter," said Matt Klein, executive vice president and chief commercial officer for Spirit Airlines.
He made the official announcement near the airport's ticket counters Wednesday afternoon.
"There is a lot of pent-up demand for travel right now and the number of people turning to the air is growing as more and more people become confident with traveling again in general," Klein said.
Spirit becomes Manchester's first new carrier in 17 years, according to Airport Director Ted Kitchens. Restructuring the airport's debt has reduced airline costs by 25%, he said.
Currently, the airport has only one nonstop flight to Orlando each day, on Southwest Airlines. At one point, the airport had five nonstop flights to destinations in Florida.
Anthony Costa of Nashua said he flies out of Manchester about six times a year. He has never flown Spirit, but said he'll likely give it a try.
"It is exciting for people who go to Orlando and stuff like that. It is an inexpensive way of traveling," he said. "Nonstop is a big winner because most of the flights out of this airport aren't nonstop."
Spirit, headquartered in Miramar, Fla., operates on a model it calls "Á La Smarte" where customers pay for options including baggage, seat assignments, shortcut boarding and refreshments.
The airline has destinations throughout the U.S., Latin America and the Caribbean. It currently flies out of Boston and Hartford, Conn.
Spirit's website lists one-way October fares from Manchester to Orlando ranging from $65 to $85.
The airline will likely fly Airbus A320 twin-jets to and from Manchester. The planes have a capacity of about 180 passengers.
Cost factors
Airport officials have long sought to attract an ultra low-cost carrier to the Queen City to increase flight options and lower fares for customers. Talks with Spirit started in April 2019, Kitchens said.
The growth of low-cost and ultra low-cost carriers at Logan International Airport in Boston has pulled travelers from New Hampshire, Vermont and Maine away from MHT, according to material submitted to the federal Small Community Air Development Program.
Before Spirit, Manchester was the only major airport in New England without a low-cost or ultra low-cost service.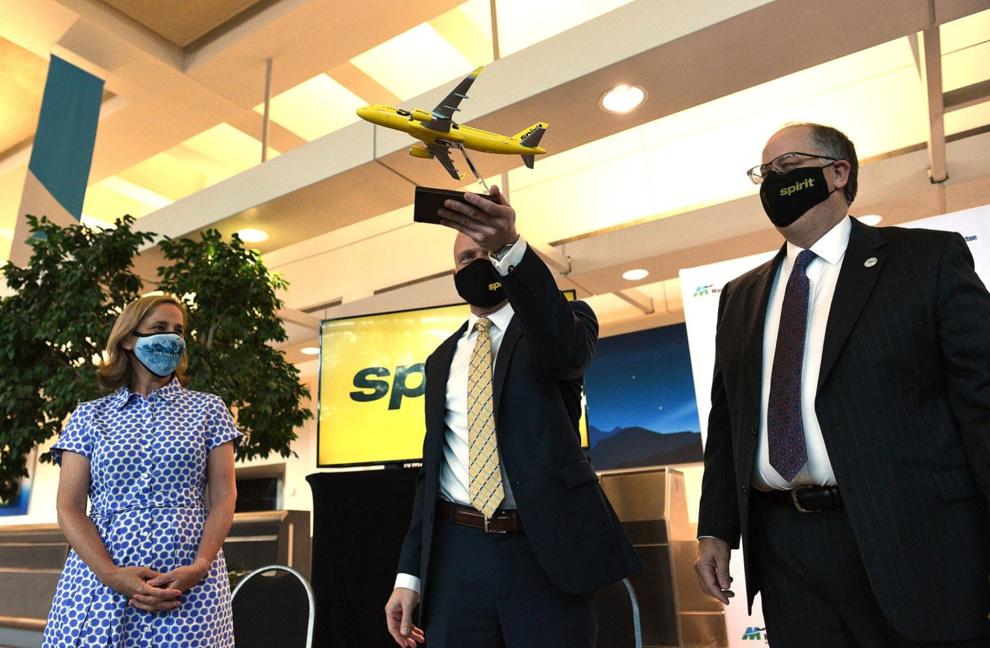 Spirit is expected to significantly boost passenger counts at MHT, which have been declining since 2005 when the airport peaked at 4.3 million passengers. The new airline could also help lower fees and other expenses for other carriers, which could help boost the number of flights offered at lower fares for customers.
Manchester is currently served by Southwest, American and United airlines.
Passengers at MHT dipped to 634,841 in 2020. Nearly 1.7 million passengers used the airport in 2019.
Gov. Chris Sununu said Spirit's arrival is "a huge point of pride" for the state.
"They said, 'We want to be a part of Manchester, we want to be a part of New Hampshire,'" he said.
Mayor Joyce Craig said local travelers for years have been asking for more low-cost flight options and destinations out of the airport.
Spirit's service is expected to generate over $25 million in economic impact in the city and $30 million across the region, she said.
"By increasing air service and providing low-cost flight options with Spirit we will be able to further attract and retain businesses, visitors and residents ensuring our already thriving economy can grow, especially as we are coming out of this pandemic," the mayor said.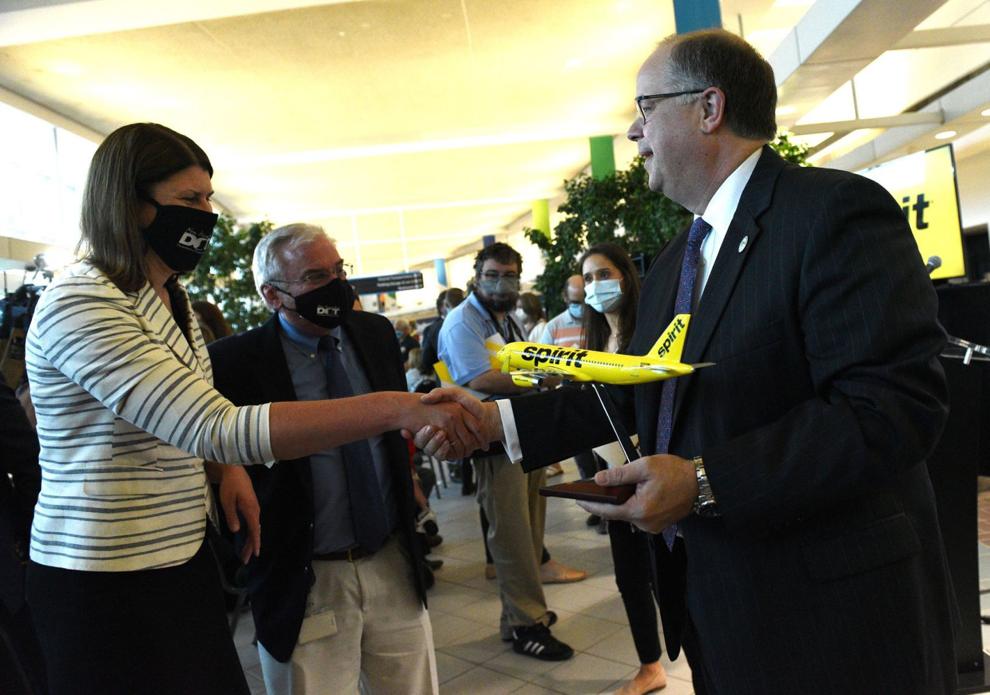 'Beginning of new growth'
Kitchens said things are looking up at the airport.
"We celebrate the turning of a page and the closing of a chapter and the beginning of new growth and prosperity at the airport," he told a crowd of more than two dozen.
United Airlines resumed operations at the airport earlier this month after suspending service because of a decrease in passengers during the pandemic.
United now has two daily flights to Dulles International Airport outside Washington, and will add a third in July.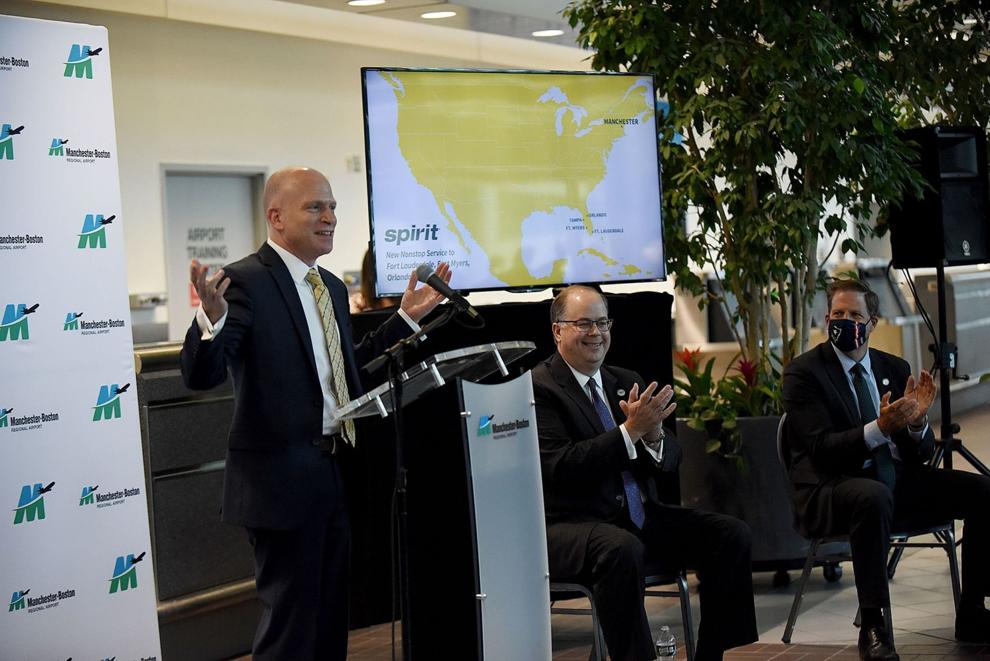 Spirit will fly three times a week to Tampa and four times a week to Fort Myers.
Klein expects Spirit will be able to expand the number of flights and destinations from Manchester in the future.
"Those routes typically do really well for us out of the gate," he said. "If that happens as we expect then we would love to be able to grow more next year, but first we have to make sure these inaugural flights do well throughout the winter."